Jamaica hands over management of Norman Manley Airport to Mexican operator
(Jamaica Gleaner) The Government has divested the operation of the Norman Manley International Airport (NMIA) to Mexican entity, Grupo Aeroportuario del Pacifico S.A.B. De C.V. (GAP). A 25-year concession agreement was signed today at the Office of the Prime Minister by Chairman of the Airports Authority of Jamaica, which owns the NMIA, William Shagoury, President and Chief Executive Officer, Audley Deidrick, and GAP's Chief Executive Officer, Raul Revuelta Musalem, and Head of the entity's subsidiary, PAC Kingston Airport Limited, Saul Villarreal Garcia.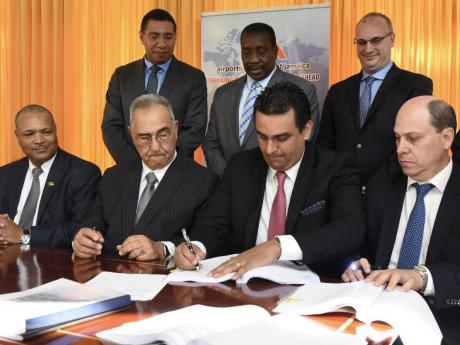 Prime Minister, Andrew Holness (left, standing); and Transport and Mining Minister, Robert Montague (2nd left, standing), observe as Chief Executive Officer of Mexican entity, Grupo Aeroportuario del Pacifico S.A.B. De C.V. (GAP), Raul Revuelta Musalem (2nd right, seated), signs the 25-year Norman Manley International Airport concession agreement on Wednesday, October 10, 2018. The signing took place at the Office of the Prime Minister. Also observing (from left, seated) are President and Chief Executive Officer, Airports Authority of Jamaica (AAJ), Audley Deidrick; AAJ Chairman, William Shagoury; and Head of GAP subsidiary, PAC Kingston Airport Limited, Saul Villarreal Garcia. At right (standing) is NMIA Enterprise Team Chairman, Paul B. Scott.
Under the agreement, GAP will be responsible for improving the airport's land and air operational efficiency, and financing and completing a modernisation programme, at an estimated cost of over U$110 million. Additionally, the Government will receive a guaranteed percentage of the airport's gross revenues. The entity has the option to extend the arrangements by an additional five years. The GAP emerged the preferred of three bidders, which included two consortia of foreign and local investors
Mexican Hotel Chain Announces US$900 Million Investment
Mexico-based Karisma Hotel and Resorts has announced plans to invest more than US$900 million to develop nine hotels in Jamaica, adding 4,000 rooms to the country's stock over the next 10 years. The 228 acre Llandovery beachfront property in St. Ann will be the site for this massive development, which is also intended to create 8,000 new direct employment and about 5,000 jobs indirectly. Karisma's Vice-President for Corporate Affairs and Business Development, Ruben Becerra, made the announcement on Tuesday, October 13, during a press conference at the offices of the Jamaica Tourist Board (JTB) in New Kingston. Mr. Becerra informed that the first of the nine hotels is scheduled to open for the winter 2018 tourism season. The Trinidad and Tobago government says the influx of thousands of illegal Jamaicans into that country is putting a strain on its resources, resulting in the loss of more than a billion dollars annually: http://bit.ly/1s5uBK5
Forgotten Beginning
I had this story sitting as a draft for several month now and only just came across it in my archive. This is one of the numerous disturbing issues that has face the Island of my birth since the so-called independence from under the jack boots of the Brutish Empire. In political science, the term banana republic describes a politically unstable country with an economy dependent upon the exportation of a limited-resource product, such as bananas or minerals. In 1901, the American author O. Henry coined the term to describe Honduras and neighbouring countries under economic exploitation by U.S. corporations, such as the United Fruit Company. Typically, a banana republic has a society of extremely stratified social classes, usually a large impoverished working class. the effects of neo liberal economic policies imposed on Jamaica by IMF and World Bank 1990.
There was or is, an old story told about two white male cousins, two of the most famous icons of Jamaica's political scene. One, Norman Manley, a Rhodes Scholar, who married his cousin, was an advocate of universal suffrage, which was granted by the British colonial government to the colony in 1944. He was a proponent of self-government but was persuaded to join nine other British colonies in the Caribbean territories in a Federation of the West Indies but called a referendum on the issue in 1961. After suffrage was approved in 1944, Manley had to wait ten years (two terms) before his party was elected to office. The other cousin Sir (Knighted by Queen Elizabitch)  William Alexander Clarke Bustamante, was a labour leader, who, in 1962 became the first prime minister of recently independent Jamaica. He founded the Bustamante Industrial Trade Union after the 1938 labour riots, and the Jamaican Labour Party in 1943. Bustamante was not as educated as his cousin, therefore his appeal was directly accepted by the poor and working class. Yet it was he a labour leader, who opposed self-government and the idea that Caribbean Nation's should divorce themselves as vassals of the Brutish Empire. To overstand what Jamaica is at the moment, one of the things we need to study is the journey from Independence to a failed state.  Rest assured Jamaica is a failed state. And no amount of hand wringing and upset, can change that. Not when the prospect looked so bright back in August first 6 1962. However, to overstand where Jamaica is, one must overstand how it got to where it is now. And these two documentaries will lay the foundation to that overstanding.
Singapore and Jamaica. A contrast of independence
For over a hundred years, Singapore was under British control. But when the British failed to protect the colony from the Japanese during World War II, it sparked a strong anti-colonial and nationalist sentiment that subsequently led to their independence. Fifty years ago, the city-state of Singapore was an undeveloped country with a GDP per capita of less than US $320. Today, it is one of the world's fastest-growing economies. Its GDP per capita has risen to an incredible US $60,000, making it the sixth highest in the world based on Central Intelligence Agency figures.
Note: Now why would the CIA be keeping tabs on former colonies of England?
For a country that lacks territory and natural resources, Singapore's economic ascension is nothing short of remarkable. By embracing globalization, free-market capitalism, education, and strict pragmatic policies, the country has been able to overcome their geographic disadvantages and become a leader in global commerce.  
Independence
On August 31, 1963, Singapore seceded from the British crown and merged with Malaysia to form the Federation of Malaysia. Although no longer under English rule, the proceeding two years Singapore spent as part of Malaysia were filled with social strife, as the two sides struggled to assimilate with one another ethnically. Street riots and violence became very common. The Chinese in Singapore outnumbered the Malay three-to-one. The Malay politicians in Kuala Lumpur feared their heritage and political ideologies were being threatened by the growing Chinese population throughout the island and peninsula. Therefore, as a way of ensuring a Malay majority within Malaysia proper and to phase out communist sentiments within the country, the Malaysian parliament voted to expel Singapore from Malaysia. Singapore gained formal independence on August 9, 1965, with Yusof bin Ishak serving as its first president and the highly influential Lee Kuan Yew as its Prime Minister. The president of Singapore, at the time observed the fledgling nation of Jamaica, who just a year before, achieved their own "legal" independence and was at that time, viewed as a beacon for other aspiring nations to emulate. As my instructors in the military like to remind us new pawns…"PAY ATTENTION TO THIS, CAUSE YOU'RE GONNA HEAR IT AGAIN!" Upon independence, Singapore continued to experience problems. Much of the city-state's three million people were unemployed. More than two-thirds of its population was living in slums and squatter settlements on the city's fringe. The territory was sandwiched between two large and unfriendly states in Malaysia and Indonesia. It lacked natural resources, sanitation, proper infrastructure, and adequate water supply. In order to stimulate development, Lee sought international assistance, but his pleas went unanswered, leaving Singapore to fend for itself.
During colonial times, Singapore's economy was centered on entrepôt trade. An entrepôt or transshipment port is a port, city, or trading post where merchandise may be imported, stored or traded, usually to be exported again. These commercial cities spawned due to the growth of long-distance trade. Such centers played a critical role in trade during the days of wind-powered shipping. In modern times customs areas have largely made such entrepôts obsolete, but the term is still used to refer to duty-free ports with a high volume of re-export trade. However, this type of economic activity offered little prospect for job expansion in the post-colonial period. The withdrawal of the British further aggravated the unemployment situation. The most feasible solution to Singapore's economic and unemployment woes was to embark on a comprehensive program of industrialization, with a focus on labor-intensive industries. Unfortunately, Singapore had no industrial tradition. The majority of its working population was in trade and services. Therefore, they had no expertise or easily adaptable traits in the area. Moreover, without a hinterland and neighbors who would trade with it, Singapore was forced to look for opportunities well beyond its borders to spearhead its industrial development.
As foreign investment poured in, Singapore began focusing on developing its human resources, in addition to its infrastructure. The country set up many technical schools and paid international corporations to train their unskilled workers in information technology, petrochemicals, and electronics. For those who could not get industrial jobs, the government enrolled them in labor-intensive un-tradable services, such as tourism and transportation. The strategy of having multinationals educate their workforce paid great dividends for the country. In the 1970s, Singapore was primarily exporting textiles, garments, and basic electronics. By the 1990s, they were engaging in wafer fabrication, logistics, biotech research, pharmaceuticals, integrated circuit design, and aerospace engineering.
Singapore Today
Today, Singapore is an ultra industrialized society and entrepôt trade continues to play a central role in its economy. The Port of Singapore is now the world's busiest transshipment port, surpassing Hong Kong and Rotterdam. In terms of total cargo tonnage handled, it has become the world's second busiest, behind only the Port of Shanghai.  Singapore's tourism industry is also thriving, attracting over 10 million visitors annually. The city-state now has a zoo, night safari, and a nature reserve. The country recently opened two of the world's most expensive integrated casino resorts in the Marina Bay Sands and the Resorts World Sentosa. The country's medical tourism and culinary tourism industries have also become quite marketable, thanks to its mosaic of cultural heritage and advance medical technology. Banking has grown significantly in recent years and many assets formerly held in Switzerland have been moved to Singapore due to new taxes imposed by the Swiss. The biotech industry is burgeoning, with drug makers such as GlaxoSmithKline, Pfizer, and Merck & Co. all establishing plants here, and oil refining continues to play a huge role in the economy.
Despite its small size, Singapore is now the fifteenth largest trading partner of the United States. The country has established strong trade agreements with several countries in South America, Europe, and Asia, as well. There are now over 3,000 multinational corporations operating in the country, accounting for more than two-thirds of its manufacturing output and direct export sales. With a total land area of just 433 square miles and a small labor force of 3 million people, Singapore is able to produce a GDP that exceeds $300 billion dollars annually, higher than three-quarters of the world. Life expectancy is at an average of 83.75 years, making it the third highest globally. The corruption minimal and so is the crime. It is considered to be one of the best places to live on earth if you don't mind the strict rules.
Singapore's economic model of sacrificing freedom for business is highly controversial and heavily debated and is not something that every nation has to do to grow. But regardless of philosophy, its effectiveness is certainly undeniable. And since Singapore was placed in an untenable situation (or death ground, if you are a student of the art of war), then they had to find drastic measures to make their situation tenable.  Remember what was mentioned above? That the president of Singapore, at the time observed the fledgling nation of Jamaica, who just a year before, achieved their own "legal" independence and was at that time, viewed as a beacon for other aspiring nations to emulate? Today If Jamaica were your home instead of Singapore you would…
be 143 times more likely to be murdered
be 7.1 times more likely to be unemployed
die 10.9 years sooner
be 17 times more likely to have HIV/AIDS
be 5.4 times more likely to die in infancy
make 85.58% less money
consume 89.19% less oil
spend 86.87% less money on health care
use 86.53% less electricity
be 34.09% less likely to be in prison
experience 1.73% less of a class divide
have 2.3 times more babies
Jamaica's descent from a potential beacon of hope and aspiration in the Caribbean and parts of the Afurakan world, to a parody and pariah of global and social civility and freedom. Yeah! Free dumb. Mind you Jamaica did not put themselves in the current position as much as they took hell that the colonialists gave them and made it their own unique hell. Overstand that amurdikkka jumped into the semi-void that England had left, when as per usual, she leaves a colony desperate, impoverished and bereft of much of any infrastructure. In Jamaica, what she left, just like anywhere else, was a highly trained set of bureaucratic flunkies, or gate keepers, trained like good house pets to manage European interests in these former colonies. Amurdikkka, being the whorish and syphilitic "bad sheep" of the European family, was allowed to police Jamaica from near, just as Elizabitch and her ilk policed Jamaica from afar. They left in place, through manipulation of the ex-slaves, two opposing and white looking Jamaicans with familial ties to England and each other. Even though Manly was the highly educated of the two, with the influence of socialism as a pill for the headache of post colonial Capitalism. It was his less educated cousin, Bustamante, who viewed ties with capitalism as best for a people with no sense of nation hood, sovereignty and strong culture.  Merely being allowed to get independence from a colonizer. To raise your own flag and national anthem, does not garner you freedom. Not unless you cut all servile ties to the colonizers, develop your own economy and political system and raise your own army to protect this sovereignty.
Despite the plea from Manly to form a federated state with other Caribbean islands with smaller size and economy, the people rebuffed him, because as kneegrows tend to be, they want top "floss" on each other. Bustamante as the first leader felt insulted to be associated with these islanders who were still colonized and thus enthralled by England. A federated state would have developed a huge trade economy and market. Create political and social union of black people who are separated by ideology and strengthen them against any attempts to by foreign nation to interpose themselves into the mix. Today most of the Islands governments are at ideological and philosophical war with Jamaica and vice versa. Jamaicans still act superior to them and they to us. Oh, many like Reggae and our unique style, food and scene. They like our flavour but don't want to be associated with us. And can you really blame them? Like Singapore, Jamaica had one industry that was their signature. For us it was tourism. Jamaica had some of the most beautiful and rare, birds, flora, wild life and agricultural soil in the world ( had because successive governments refuse to preserve them). But consistent mining, without over sight, and unimpeded construction mainly for foreign wealth has destroyed many of the soil, water, flora and wild life.  Bustamante was a plant by the Brutish Empire, to ensure that the island of nation, did not achieve true black independence. They knew our story better than us. They knew of Boukman, who had a very strong influence on the revolution in Ayiti. They knew of the Maroons and Queen Nanny. Of Paul Bogle, Sam Sharp, Tacky and of course Marcus Garvey, who vocally taught not just Jamaica, but the black diaspora what we had to do to be free. And he wrote it all down. There finally was the rise of the early Rasta, who despite their Christian background and adherence to Selassie, were more spiritually and nationalistic, than what passes as Rasta today. Keep in mind Afurakans don't have rebellions. These are words used to describe disobedient children. We have revolts which are minor and were snuffed out swiftly, or revolutions, which had long-lasting effects.
All these are seen as a threat to White Pathology and the white devils fear of a black planet.
"My decision to destroy the authority of the blacks in Saint Domingue (Ayiti) is not so much based on considerations of commerce and money, as on the need to block for ever the march of the blacks in the world".
–Napoleon Bonaparte
On my visit to Jamaica this year, I happened to drive past a huge cement factory, in my search for a fabled hot spring mineral bath. The sight of the structure and the width, covering several acres upset me a great deal. Watching all the noxious fumes being spewed into the atmosphere, after passing by Jamaica's southern harbour, whose waters looked dead, I asked about the factory and was told that it is owned by a Trinidadian. I knew it wasn't  a black man and asked. Lo and behold it was owned by a South Asian, who left Trinidad to come to Jamaica to take advantage of the gap in Jamaica's lack of real sovereignty and nationism. This was the most recent example of Jamaica reduced to a beggar state. A banana republic that is ripe for continual exploitation. Michael Manley's dalliance with socialism, echoed his father and resulted in not just amurdikkklan and IMF interference, but object hatred and opposition by many of the population, who till this day associate themselves with England Amurdikkka and other nations, before they do Afuraka.
Many of you may have seen the documentary Life and debt. I want to leave this post with that documentary plus several more, to show you how we were placed in this untenable situation and how we embraced and perpetuate the situation continually. To the point where many on the island are encouraging returnees to stay away because of the rise in returnees being murdered. Of course there is opposition and rancour over this, yet we continue to ignore the most basic remedy against the continuation of Jamaica being treated as a banana republic. Over throw the government and establish an autocratic one, similar to Singapore. Because as it stands right now, western democracy doesn't work. Socialism is at best non-existent, at worse more of the same bullshit. And a system based Afurakan communalism, tradition and morality, will be rejected out right. In fact, and autocratic or authoritarian system would prevent natural slaves from interfering until the system is righted and the nation starts seeing success. I fear, as much as man, that even such an opportunity has passed us, as many are predicting that Chinese will be the first language and Marcus Garvey biopic will be played by some white guy. This is the road Jamaica has gone down. Bleaching and celebrating "browning" is one national pastime. Violence is as traditional as reggae music. And authentic reggae is more accepted in Norway and Liverpool, than in Kingston.
Without a leader, black ants are confused. ~Ugandan proverb
He who refuses to obey cannot command. ~ Kenyan proverb
A large chair does not make a king. ~ Sudanese proverb
Because he lost his reputation, he lost a kingdom. ~ Ethiopian proverb
Where a woman rules, streams run uphill. ~ Ethiopian proverb
A leader who does not take advice is not a leader. ~ Kenyan proverb
Unity is strength, division is weakness. ~ Swahili proverb
Sticks in a bundle are unbreakable. ~ Bondei proverb
Cross the river in a crowd and the crocodile won't eat you. ~ African proverb
Many hands make light work. ~ Haya (Tanzania) proverb
Where there are many, nothing goes wrong. ~ Swahili proverb
Two ants do not fail to pull one grasshopper. ~ Tanzanian proverb
A single stick may smoke, but it will not burn. ~ African proverb
If you want to go quickly, go alone. If you want to go far, go together. ~ African proverb